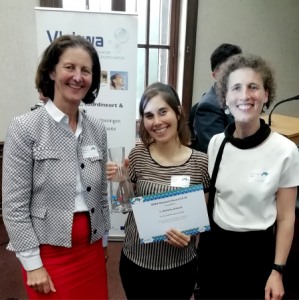 The 2018 Research Award of the Belgian Committee of the International Water Association (BIWA) was awarded to Andreia Amaral, a joint Ph.D. student of Instituto Superior Técnico (MARETEC), Portugal and Ghent University (BIOMATH), Belgium. This year's award was given based on the excellent research paper entitled: Towards advanced aeration modelling: from blower to bubbles to bulk.
The research of Andreia Amaral aims at improving our understanding of gas-liquid mass transfer. Based on this knowledge, fine-bubble aeration systems of full-scale wastewater treatment plants can be optimized for environmental and economic benefits. 
The BIWA Research Award is awarded yearly to outstanding individuals active in the Belgian water sector for their innovative and creative approach towards a sustainable water future.