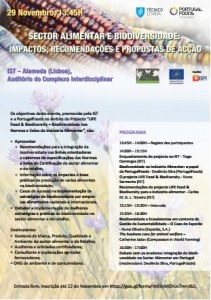 IST, Portuguese Partner of the Project LIFE Food & Biodiversity (through MARETEC), will host, in collaboration with PortugalFoods, an event of presentation of the project's Recommendations and Fact Sheets in Lisbon. The event "Food sector and biodiversity - impacts, recommendations and proposals for action" (title translated from Portuguese) will take place on November 29, 2018.
The goals of the event are:
To present the Project's Recommendations for the integration of biodiversity in the policy and criteria of Standards and Labels of the Food and Retail industry;
To provide information on the impacts and good practices of producing various foods in biodiversity;
To present cases of implementation of biodiversity strategies by national and international food companies;
To discuss the implementation of better biodiversity strategies and practices in the food and retail sector.
The target audience is:
Brand, Product, Quality and Environmental Managers in the food and retail sectors;
Auditors and certifying organizations;
Agricultural consultants, advisors and farmers;
Environmental and consumer NGOs.
The event will take place in the Amphitheater of the Interdisciplinary Complex of the Alameda Campus of IST (Lisbon), at 13:45. Entry is free and registration must be made until 22 November at https://goo.gl/forms/rhX3yMOVuv7mryIb2 (in Portuguese).
Program (in Portuguese) downloadable from this piece of news.